Twitter

Sedgefield Primary @atsedgefieldpri
21 Oct A fantastic turnout and wonderful performances from all the children at @atsedgefieldpri Enjoy the half term. https://t.co/HFbGICBzXT
20 Oct The Junior disco is in full swing! Thanks to the PTFA for making it happen! https://t.co/0X6Vw6ImW0
20 Oct Fun at the Infant PTFA disco. Junior disco next ... https://t.co/tVOIGE4ZVO
20 Oct Well done to our Squah team on their 2nd place finish. The group thoroughly enjoyed playing against challenging opp… https://t.co/D2VGqSZkJm
19 Oct A superb achievement from this morning 's cross country. The 3/4 boys achieved silver, 5/6 girls achieved bronze and 5/6 boys won gold. 🏅
Sedgefield Primary School News
Sedgefield Primary gets active
We've had great fun this half term trying out lots of different activities, from Judo, to skipping to hula-hooping. We've enjoyed learning new skills at the same time as keeping fit. We're even skipping and hula-hooping during our break times.
Fun Club's new building
Fun Club's new building is progressing well and is looking fantastic. We hope to be in by half term.
News Page »
Welcome to Sedgefield Primary School
Our aim, at Sedgefield Primary, is to provide high quality education within a nurturing, learning environment, so preparing children to become caring, creative and responsible citizens of the future. Visitors to our school are impressed by the exemplary behaviour, positive attitudes, enthusiasm and talents of our children. They are taught by a highly committed and skilled staff, who ensure quality teaching and learning throughout our school. However, our school is much more than this; the positive atmosphere that exists at our school fully encourages our children to have excellent attitudes towards each other and there is a strong sense of belonging, caring and consideration. Our children are happy, confident and show pride in themselves, their work, our school and the community we serve.
We are always pleased to welcome new parents and children to our school. We are proud of our school, our children, their achievements and the role we play in the life of the local community.
Everyone is always welcome to contact or visit our school to find out more about us.
Mrs Andrea Cox
Head Teacher.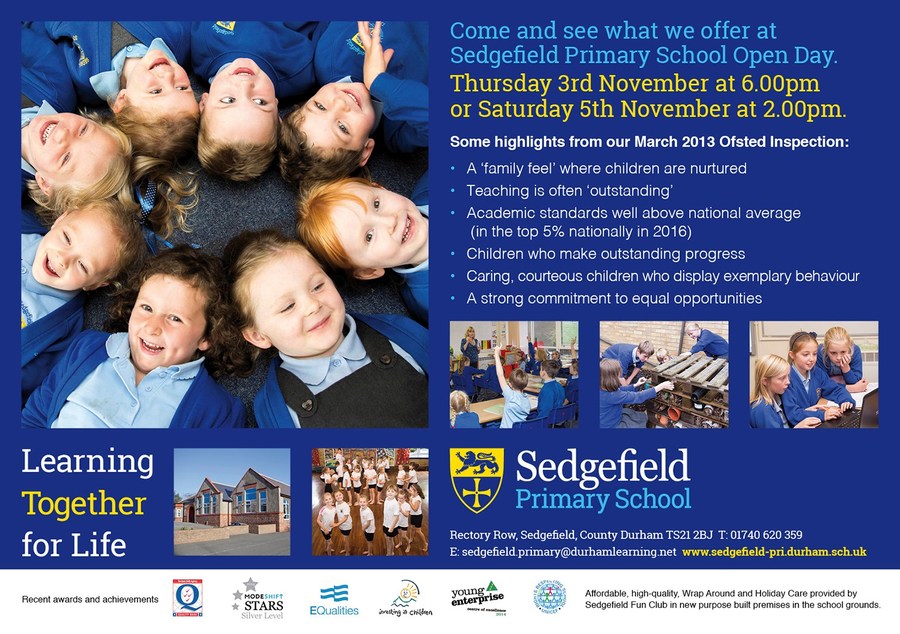 Latest School Diary Events
Half term holidays

24

Oct

2016

8.55am Children Return

31

Oct

2016

Book Week

31

Oct

2016