Twitter

Sedgefield Primary @atsedgefieldpri
24 Sep Jasmine and Holly from @JBDStudio10 are with Year 6 as they continue to develop their dance skills to This is me fr… https://t.co/FimRCiFUSr
18 Sep Jasmin and Molly from @JBDStudio10 put Year 6 through their paces for the first dance lesson. As you can see from t… https://t.co/NDt3mkAIsI
15 Sep All tidied up after the carnival! Thanks to everyone who supported us, Hays Travel, Coop (Sedgefield and Fishburn),… https://t.co/7X2JaX0LaN
14 Sep Some of the fun! https://t.co/T2MMbBtsRW
14 Sep The 'Back to School Carnival' is in full swing! Thanks to the PTFA for all of their hard work.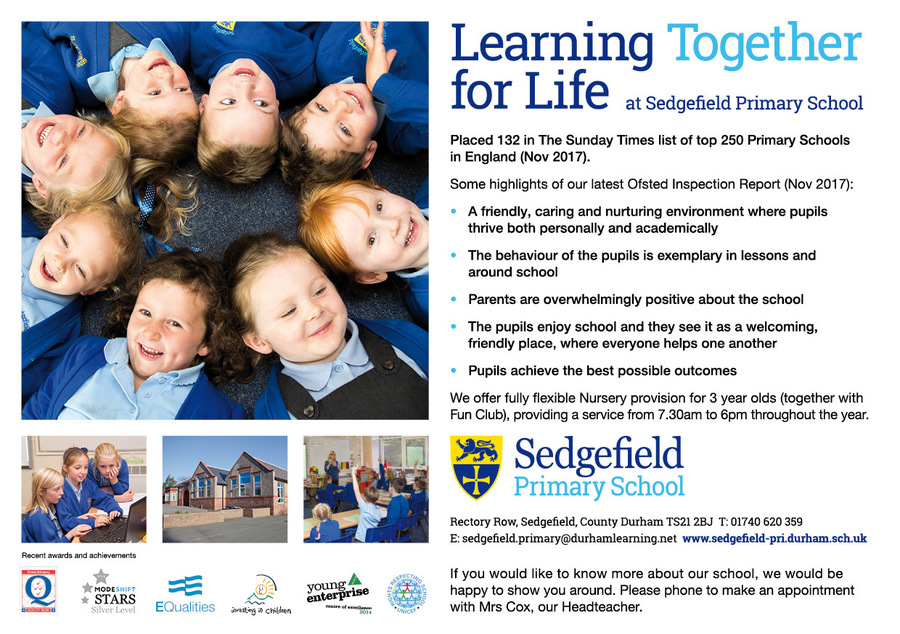 Welcome to Sedgefield Primary School
Our aim, at Sedgefield Primary, is to provide high quality education within a nurturing, learning environment, so preparing children to become caring, creative and responsible citizens of the future. Visitors to our school are impressed by the exemplary behaviour, positive attitudes, enthusiasm and talents of our children. They are taught by a highly committed and skilled staff, who ensure quality teaching and learning throughout our school. However, our school is much more than this; the positive atmosphere that exists at our school fully encourages our children to have excellent attitudes towards each other and there is a strong sense of belonging, caring and consideration. Our children are happy, confident and show pride in themselves, their work, our school and the community we serve.
We are always pleased to welcome new parents and children to our school. We are proud of our school, our children, their achievements and the role we play in the life of the local community.
Everyone is always welcome to contact or visit our school to find out more about us.
Mrs Andrea Cox
Head Teacher.
Please get in touch to arrange a visit to our Nursery if your child is turning 3 in 2018.
132 in The Sunday Times list of Top 250 Primary Schools Nationally.
We are delighted that in The Sunday Times on 9th November we were included in their list of the top 250 primary schools in the country.
Latest School Diary Events
Robinwood and SATs Meeting

26

Sep

2018

6:00 pm - 7:00 pm

Phonics, Reading and Writing Meeting for Reception Parents

03

Oct

2018

5:30 pm - 6:30 pm

Year 1 Class Assembly

09

Oct

2018

9:10 am - 9:30 am