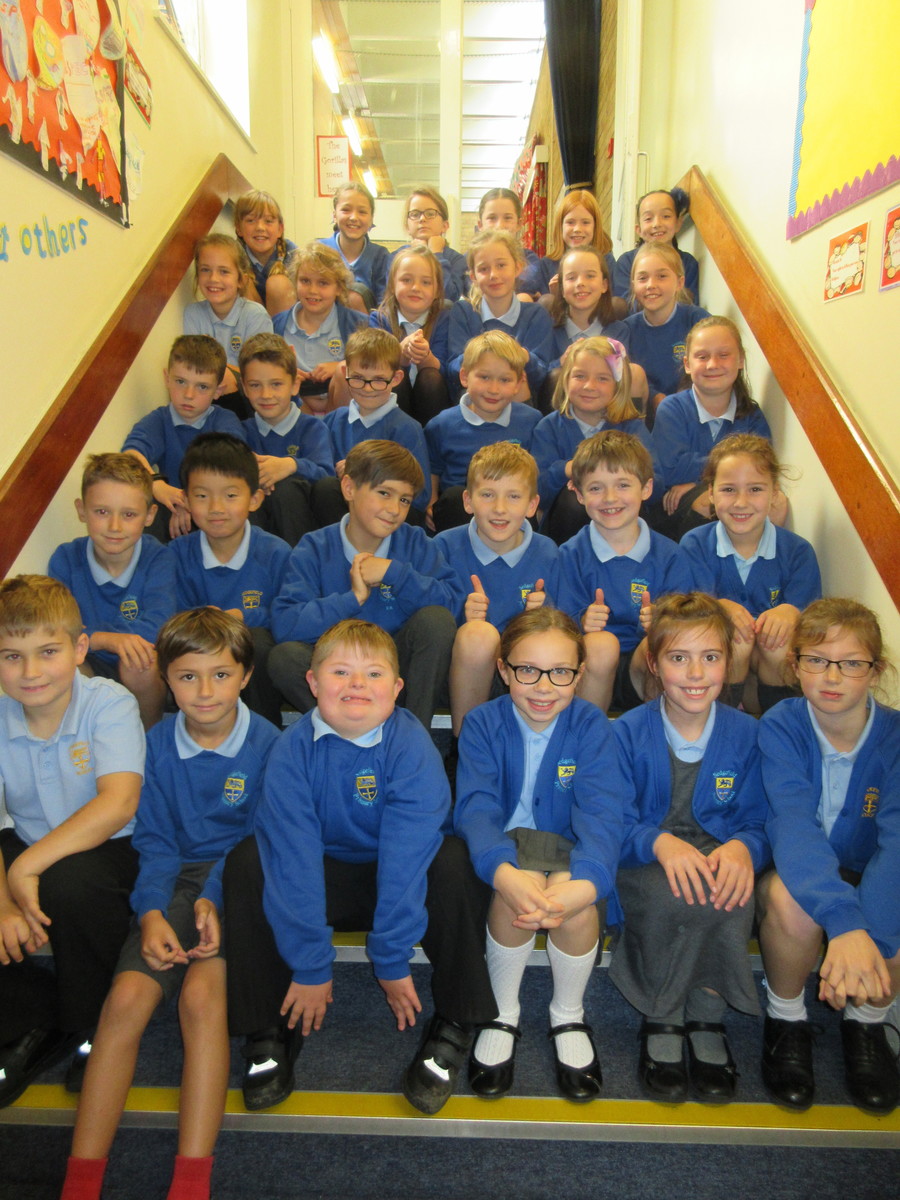 During the Summer term our topic is 'Magnificent Mountains and Rapid Rivers'. In this topic, the children will be locating the world's major rivers and mountain ranges using maps and atlases before tracing the journey of a local river using digital mapping. They will describe the geographical features of mountains and rivers, learn how they were formed and continue to change over time.
CLASS ASSEMBLY
This term, we will also be performing our class assembly to the school. It will take place on Tuesday 22nd May at 9am. We've just started rehearsing but we'd love to see as many parents, grandparents and carers at the forthcoming assembly.
SUMMER NEWSLETTER
If you wish to see our Summer Newsletter, you can download it below.
Year 4's trip to Teesmouth
Year 4 enjoyed a fantastic trip to Teesmouth Field Centre. Here we examined beach and sand dune habitats and visited the Transporter Bridge. We have really looking forward to our follow-up work in our Science and Geography lessons.
Open afternoon
We had a great time solving 'Who dunnit' maths puzzles around the theme of the royal wedding. The children (and the adults) also enjoyed creating graffiti 'tags' on the playground to fit in with our 'Arts Week' theme of 'Street Art'. Thank you to all of the adults for coming. Here are some photos of the afternoon.
Y4 Trip to Durham Cathedral
To start this Summer term, Year 4 and 3 went on a trip to Durham Cathedral on Thursday, 19th April. It was a glorious day and we had the opportunity to learn about the history of Durham Cathedral. Our guides were extremely information and helpful. We learned that the cathedral was nearly a thousand years old and the largest of its kind at the time.
After lunchtime, we walked along the path beside the Wear and looked out for features of the river which links with our new 'Rivers' topic. What a wonderful day!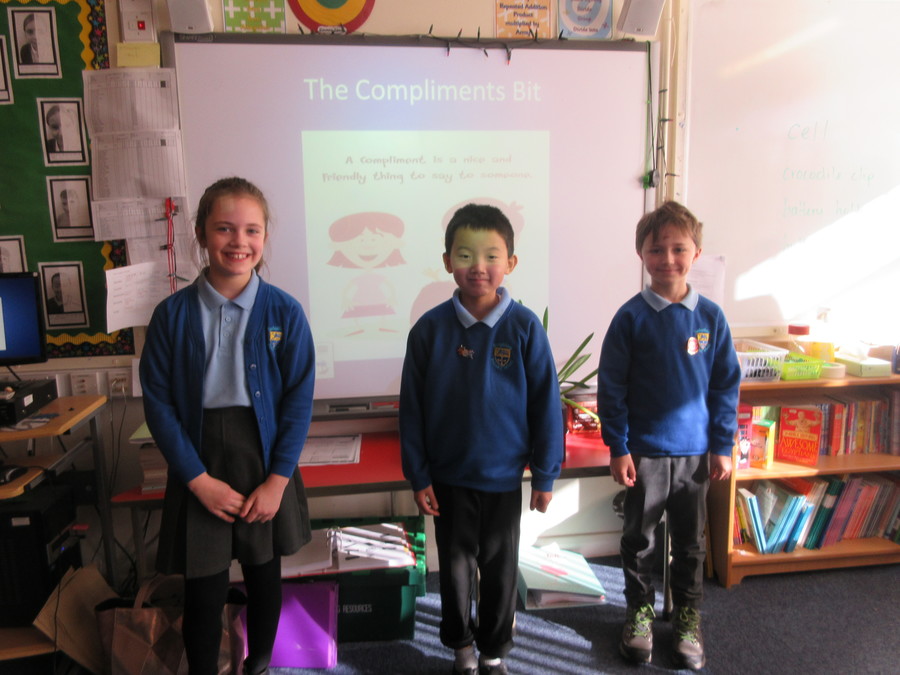 Friendship Workshop in Year 4
Year 4 have been looking at friendships, relationships and bullying in a classroom-based workshop. Val McFarlane talked to the children about friends, what makes a friend special, types of bullying and how we are all different. We also examined the differences between a fall out and bullying and how we can respond to bullying.
Gymnastics Coaching
During the first 6 weeks of the Summer term, we are really lucky to be receiving specialised gymnastics coaching. During this time, the children will have the opportunity to learn and master basic gymnastic principles, including jumps, rolls, balances and partner work.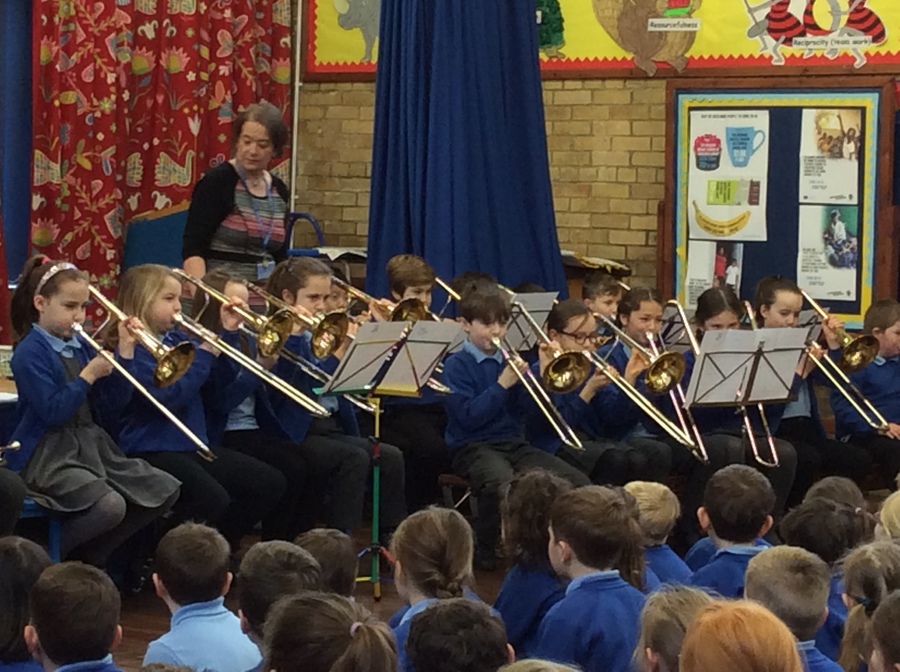 Brass Assembly
All of our Year 4 pupils will have the opportunity to learn to play a brass instrument this year. The second group performed to a large audience in assembly this week and they were absolutely fabulous. We all enjoyed listening to their performances of 'Boogie Shoes' and 'Five Jive'. Well done! The children now have the opportunity to continue their lessons with Mrs Norris. Last year, nearly all of the children from Year 4 continued with lessons after the trial period. What a fantastic take-up!
Year 4 Class Assembly - The Romans
Today, Year 4 performed their class assembly in front of a large audience of pupils, parents and carers. They had been learning about the Romans and the children have enjoyed finding out what life was like in Roman times. The children performed really well and looked amazing on stage in their fantastic costumes. We hope you enjoy looking at some of the photos from the performance.
Y4 Trip to Segedunum Roman Fort
Year 4 had a fabulous trip to Segedunum Roman Fort in Wallsend at the end of the Spring term. This visit helped to 'round off' our Roman topic and gave us a real insight into life in a Roman fort. The children worked closely with the museum staff to find out about life as a soldier and as well as life in Roman Britain. They also made a clay 'face pot', like the ones that were fashionable in Roman times. This was a fantastic visit and one that I'm sure the children will remember.
Science Week in Year 4
Science Week started with making a hedgehog box and bug hotel for our school field. We then used natural forms (leaves) to create abstract prints which will later be displayed in Durham Cathedral.
On the Tuesday and Wednesday, we spent much of our time sharing our own favourite science experiments and answering any questions that our classmates had. The children had obviously spent a long time researching their favourite ones and finding out about the science behind them. We also had visits from two school governors, Dr Gill and Mrs Lafford, both of whom helped in classroom activities and furthered our scientific knowledge.
On the Wednesday we went on to complete the 'Magical Egg Drop Challenge'. It was an eggsplosive afternoon, where everyone tried eggxtra special to have a cracking time! Sorry, but I couldn't resist!
On Thursday, we another another visit from a parent, Mr Jon Scott, who delivered a lesson on how electricity is produced using different sources. As well as proving a useful insight into how power stations and water turbines generate the power we use in our homes, he also reminded children of the dangers of electricity and sub-stations.
All in all, we had a fantastic week. Everyone had lots of fun and there was a HUGE amount of science taking place every day. Well done Year 4!
Outdoor Learning
Year 4 are currently working on a project funded by the East Durham Rural Corridor Area Action Partnership. Here we will look at wildlife in the school grounds and find ways of improving the area for wildlife. The first part of the project involved setting up a motion camera to capture wildlife in our school field. Next time we will be looking to set up a hedgehog garden.