EYFS - Nursery and Reception!
Welcome to the EYFS!
We have plenty of fun, whilst learning lots, inside and outside.
"My day was perfect!" "I did something new today!" "This school lunch is yummy." "We made a house!" "I love to count!" "I have 4 green cards!"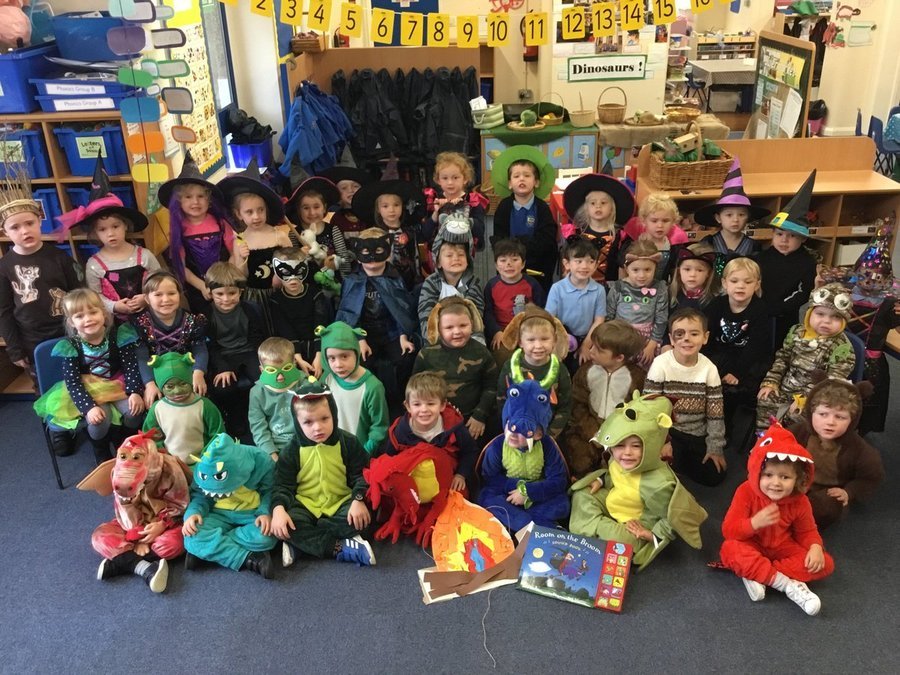 Are you moving into Reception in September? Have a look at our PowerPoint to find out more about our class.
Reception have been working hard at home! What have you been doing?
We have started to make our 'That's not my...' books!
Have a look at what we have been doing in school.
Our outside classroom is a busy place! Outside water play is great fun and we love investigating how it can move! The mud kitchen and digging area are also very popular, but we need to remember to wear wellies and an apron! We have lots of different things in our Tuff Spots and make great constructions with our hollow blocks and other resources.
We are really pleased to now have our 2 canopies because it makes our outdoor learning more pleasurable when it is rainy and we can keep lots of resources dry under them.
We really enjoy and benefit from outdoor learning, especially on our visits to 'The Woodlands', where we can learn whilst having lots of fun. We had a 'Room on the Broom' afternoon, Christmas session, made bird feeder and solved number problems.
Look at what the children have been doing at home!
Rebecca has mad a brilliant Stop Motion Lego Film!
We love the role play areas.
We have a home corner which changes to reflect significant events during the year.
We also have another role play area that changes to mirror the children's interests.
Our role play area has been a Dinosaur Museum, Santa's workshop, Fruit and Vegetable Shop, Police Station and Fairy World.
The children have enjoyed their cooking and baking.
The Nursery children have been having lots of fun!
We like to follow the children's interests; dinosaurs, the cinema, super hero and many more!
In Early Years we love going on trips and having visitors into school.
Reception really enjoyed visiting 'Dippy on Tour' and becoming 'Dino Detectives' at the Great North Museum: Hancock.
We have had lots of parents visiting Early Years to talk about their jobs. It has been very interesting.
Nursery went on a very snowy day to the Coop to buy ingredients to make pancakes.
We had hoped to visit a farm, but we will have to see what happens over the next few weeks.
Parent/carers are the children's first educators and we know that this does not stop when children starts in the EYFS. We have a new parent share system which allows parents to share observations from home and practitioners can share ones from within our setting.
In Nursery and Reception the curriculum is very much play based and follows the children's interests. The children are really 'learning' whilst with us!
Through child initiated and adult led activities the children develop their skills in the Prime Areas of Learning (Personal, Social & Emotional Development, Communication and Language, and Physical Development) and Specific Areas of Learning (Literacy, Mathematics, Understanding the World and Expressive Arts & Design).
The children learn the basic skills of focusing on a given task, sharing equipment, working together (or individually), listening to others and taking turns; all of which will give them a really solid foundation as they progress through school.